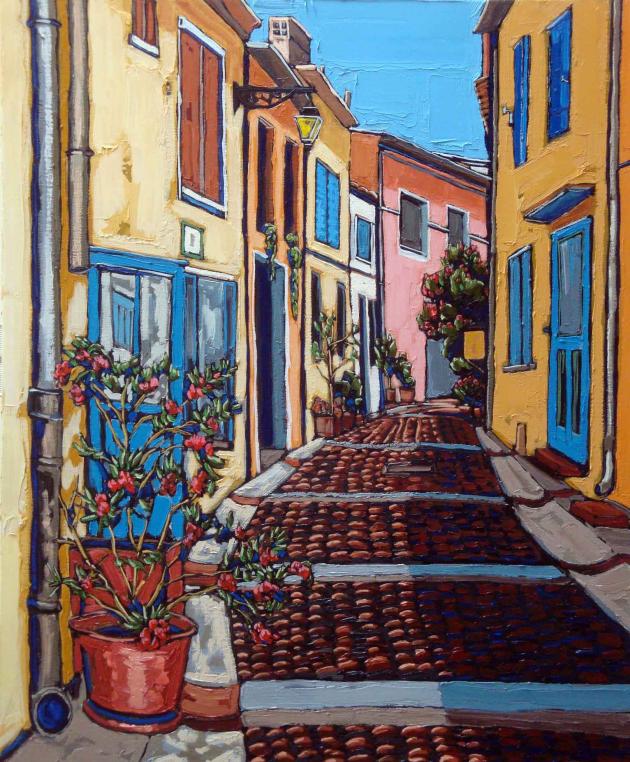 Contact Neil Myers
Galleries
Neil currently shows work at:
Biography of Neil Myers
I was born in North Carolina, but my artistic inspiration has been derived from both living abroad, in France and New Zealand, and from the influence of various artists, especially French Artists. My style is a derivation of Expressionism and French Fauvism. In 1994 I met Dr. Augustin Quilici while I was attending Lenoir-Rhyne College. When Dr. Quilici learned I was interested in art, he took me immediately to his office and showed me the work of his cousin, celebrated French Artist Jean-Claude Quilici. In Jean-Claude's work I found my own instincts about color and texture confirmed, and through Dr. Quilici I met Jean-Claude twice and we became friends. In 1996 I visited with Jean-Claude Quilici at his Sun Gallery in Paris, France. That spring I also visited the major museums of France, and various locations where Van Gogh and Cezanne painted.
From 1999 to 2003 my wife and I lived in Auckland, New Zealand, where I painted, sold and exhibited works inspired by the city, the North Shore Bays, and the ocean. One of my pictures was purchased for the lobby of the Sebel Suites Hotel, in downtown Auckland. A pivotal point came when my wife and I moved back to America, and settled in Arizona after a brief period in rural New Mexico.
I've exhibited at numerous special exhibits around the Tucson area, and I made my debut in Southwest Art Magazine in September of 2005 for the "21 Under 31" issue. I was featured in 2006 in Oro Valley Magazine, and in early 2007 I was a featured artist in Tucson Home Magazine's "3 of a Kind" artist series. In November 2007 Southwest Art Magazine featured my painting "Fence Shadows, Santa Fe" in their "Best of the West" section.