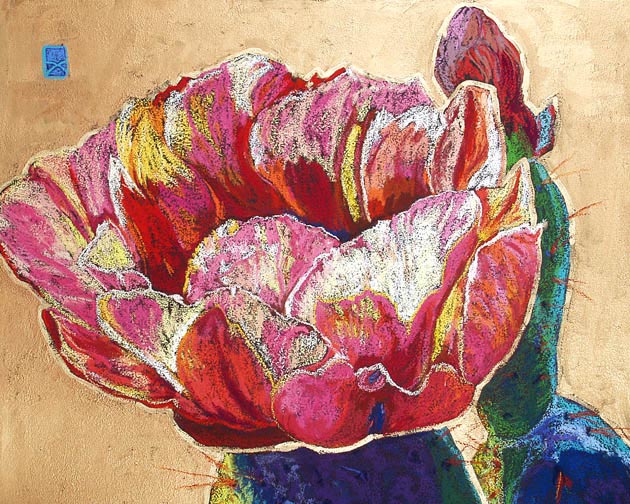 Contact Susan Dunker
Website: Facebook Page
Address:
654 East Springer Avenue
Ridgecrest, CA 93555
Galleries
Susan Dunker currently exhibits in the following galleries:
Studio Eight, 995 N. Norma, Ridgecrest, CA 93555
Medici Company, 335 N 100 E, Logan, Utah 84321, 435-755-5025
Biography of Susan Dunker
Susan Dunker was raised on a farm in the sweeping wheat fields of eastern Washington. She studied art at Washington State University and graduated fromUCLA, where she received a degree in Art History. In1998 she retired from her 20 year career as an illustrator for the Naval Air Warfare Center, ChinaLake, California.
Her study of art history familiarized Susan with the various art movements of the early 20th century including the post-impressionists, fauves and nabis. Their loose, broken brush strokes and unconventional use of color appealed to Dunker. These historical influences plus the encouragement of her mentor,William Herring, led her to abandon local color and to react emotionally to the subject, using whatever colors she feels best expresses their beauty and form.
Soft pastels, brilliant acrylics and oils all provideDunker with the intensity of color she loves. Susan's art has been included in many national and international shows. The painting "Fire on theMountain" was selected for the prestigious Top 100Arts for the Parks and toured the nation in 2000-2001.In 2002 she showed at the Santa Fe Canyon Road gallery Mill Atelier. She is a member of the PastelSociety of the West Coast, Northwest Pastel Society,and Wildlife Artists Association among others. Since retiring, Dunker divides her time between Los Osos, a mile or so from Morro Bay, and Ridgecrest, California.
Susan Dunker paints the colors of creation, alive,exciting, provoking colors as though lit for the first time by the dawn. Animal, floral and landscape paintings utilize the intensity of color, the volume is pumped up and literally pulsates with visual activity.